Saturday
Boo: Stories About Things That Are Scary
What: "Spend Halloween with SpeakeasyDC and Dance Place listening to true stories about frightful encounters, terrifying moments, and spooky predicaments including shark attacks, crazy basement ladies, and unsolved murder mysteries.  Featuring stories by Kathryn Brand, Stephanie Garibaldi, Derek Hills, Cindy Kane, Brian Leonard, Jennifer Luu, Caitlin McIntyre, Eritrea Pitts, and S.M. Shrake."
Where: Dance Place, 3225 8th Street Northeast, Washington, DC
Metro: Brookland/CUA, Red line
When: 7:30pm and 1opm (adults only)
How Much: $17 for Dance Place members, seniors, teachers, and artists. $10 for students. $22 general public.
Pro-tip: Sounds like a pretty chill time. If you're thinking the indoors might be a nice place to be tonight, check this out with your favorite coffee drink in hand.
Humans VS.  Zombies: Special Halloween Edition!
What: Humans vs. Zombies . If you haven't played before, get ready for love, death, tears, joy, laughter, and slaughter. All those things? ALL THOSE THINGS!!
Where: Montrose Park, 3001 R Street NW, , Washington, DC
Metro: Dupont Circle, Red Line, then take a bus going over Q St. to Georgetown
When: 5pm-8pm
How Much:  Free
Pro-tip: Excellent training for the apocalypse next year, since even when it's raining and freezing you're going to have to fend the zombies off. Zombies do not get cold, they don't give a shit if they get wet, and unfortunately that means you don't get to hole in your hidey place with a can of reheated beans and that awesome cache of Y:The Last Man trades you found in the second bedroom. Nope. It's off to fight the zombies, FOR HUMANITY! But bring a change of dry clothes. Because you're not much good to humanity if you die of hypothermia before recreating and making more zombie hunters.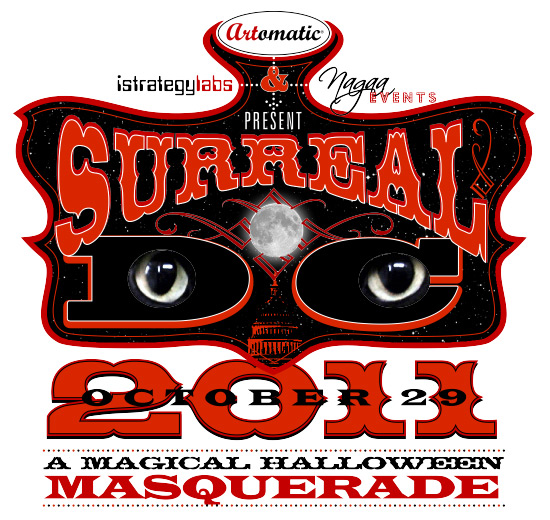 Surreal DC: A Magical Halloween Masquerade
What: " Revel in mayehm this Haloween with Artomatic, Nagaa Events, and iStrategylabs at SurrealDC! Join us for the reunion of hundreds of DC's creative and technology community members."
Where:3050 K St NW,  2nd floor DC, at Georgetown Harbour
Metro: Foggy Bottom/GWU, Blue/Orange lines and then walk or cab it over
Dupont Circle, Red line, then $1 Circulator
When: 8pm-2am
How Much: $25  for admission, open bar 'til 10pm
Pro-tip: I've always had fun celebrating Halloween down by the Harbour. It's near enough Nightmare on M Street to be a part of the fun without having to deal with standing in the rain for a couple of hours while ALL the drunk people in front of you stumble along like zombies to the next watering hole.
What: An awesome Bhangra dance party for Halloween weekend, because, really, why not?! And because Diwali was a couple days ago. But mostly cuz of the Halloween, so come in costume or get laughed out of the club.
Where: 930 club, 815 V St. NW, Washington, DC
Metro: U Street/Cardozo or Howard/Shaw, Green/Yellow lines
When: 11pm – whenever the dance spirit leaves your body (prob. around 2am)
How Much: $18, get tix online
Pro-tip: Go get a little smashed around U street, maybe get a Ben's chili dog, then get ready to get your effing groove on.
VA Comic-Con
What: A local comic book convention taking advantage of the fact that Halloween is not actually the Slut's Holiday but the Geeky Cosplaying Nut's Holiday!
Where: Crown Plaza West Hotel
6531 West Broad Street
Richmond, VA 23230
Metro: Not really. It's Richmond. Zipcar it or catch a ride.
When: October 29-30, 10am-4pm
How Much: $10 for both days
Pro-tip: Make sure to try for that $500 costume prize on Sunday. Also, the early hours make sure you've got plenty of time to get your inner cosplaying slut out, too, at your choice of DC drunk-a-palooza. Unfortunately, I can't seem to find any links to the website, which was just there a couple of days ago. I'll try to update with it if I ever find it again.
Sunday

What: A fine Steampunk celebration of All Hallow's Eve with fellow gentlemen and ladies of breeding and distinction.
Where: Rock Creek Cemetery
Rock Creek Church Road and Webster Street., N.W.
Washington, District of Columbia
Metro: Georigia Ave/Petworth, Yellow/Green lines
Fort Totten, Red line
When: 2pm-5:30pm
How Much: Potluck, so bring some goodies to share
Pro-tip:
Monday